RAPIDLY BUILD & HOST DATA-DRIVEN WEB APPLICATIONS
The fastest & easiest, low-code web application builder

Windows Desktop Only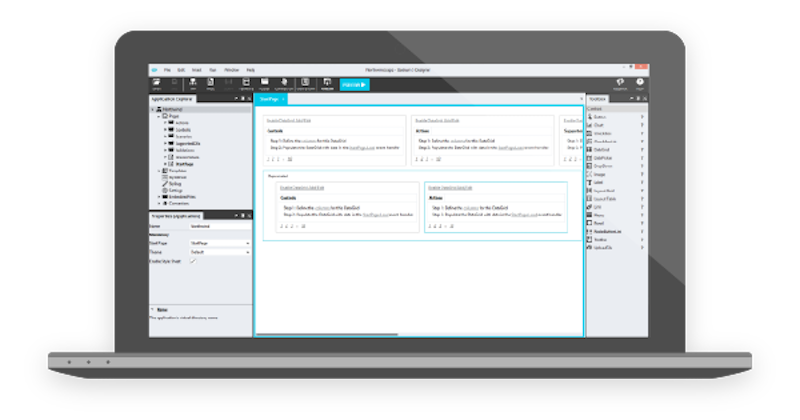 Stadium is a Web Application Builder with an intuitive drag and drop interface allowing the user to quickly and easily build data-rich web applications for business.
It is designed to empower the technical user to build flexible and powerful web applications. The development environment enables the developer to visually build their application and connect to data sources without getting bogged down in javascript, CSS, frameworks and libraries.
Deployment is a one-step process to a server with security, monitoring and versioning as standard.
Data-Driven Apps
Manipulate and combine data to quickly create dynamic, data-driven applications for a wide range of business users.
Hassle-free Hosting
Our cloud or your datacenter, you choose the environment that best supports your business requirements.
Low Code
Designed for speed and customisation, Stadium offers everything you need to build apps without code.
Any Data Source
Use a diverse range of data inputs including relational databases, web services or files. Or create your own data objects with scripts.
Powerful Visual Scripting
Drag and drop interface for client-side scripts. Extend and customise scripts via JavaScript.
Modern Themes
Style your application by choosing from several prebuilt themes. Add additional customised styling by writing your own CSS.
Visually Create Powerful Data Solutions
Code-free programming that lets you build and host web applications





Designed with Data in Mind
Stadium is the fastest way to create a front-end for data manipulation and presentation. Data-source agnostic, Stadium is a powerful, hyper-scalable and secure platform to integrate and present your data.
Create Apps, Fast and Easy
Build your web applications at super-fast speed with no repetition. Stadium's simple UI builder allows you to create and edit your page with full flexibility, all in an easy to use drag and drop environment..
Simple to Change, Painless to Secure
Quickly change pages, update data sources, change application behaviours and tighten security to meet the needs of fast changing business environments.
The fastest way to build professional, data-driven web applications